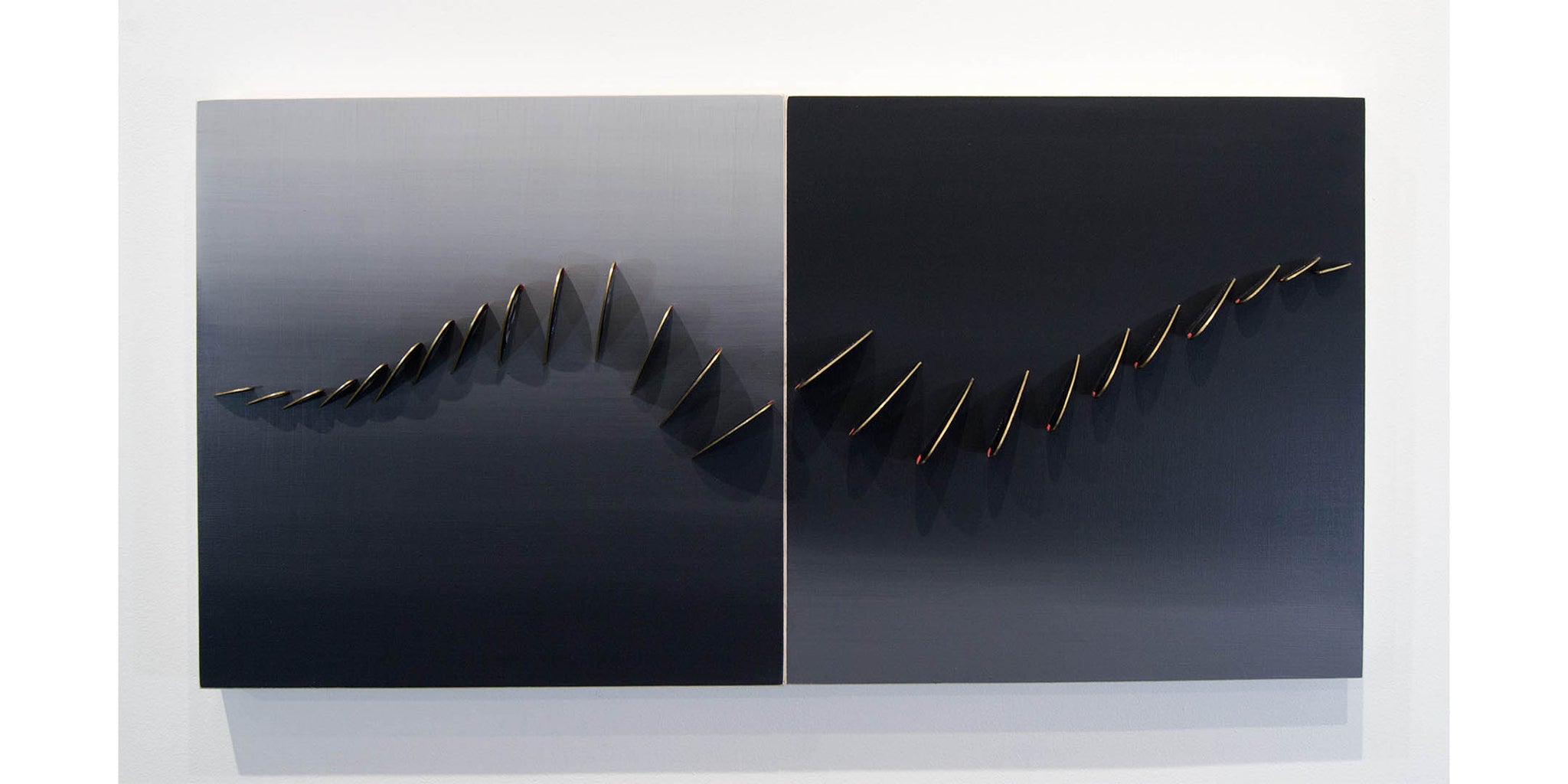 Black Swan Theory (Diptych)
Black Swan Theory (Diptych)
Natale Adgnot
Acrylic, enamel on thermoplastic and panel 
2022
About Bird Brains:
The English language is replete with idioms that make reference to birds, beginning with the expression "bird brain." This series of wall sculptures – inspired by these birds – is a glossary of logical fallacies and cognitive biases that are so pervasive they have been given colloquial status as sayings, stories, or metaphors.

Continuing my ongoing exploration of bias and fallacy, "Bird Brains" matches entries in the cognitive bias codex with the birds that best exemplify them. From black swan theory to the duck test to the proverbial canary in the coal mine, I tap into this rich language to point out the stunning variety and sheer magnitude of ways we humans misconstrue the world.

About Natale Adgnot:
Natale Adgnot is a Franco-American artist who uses abstract drawing and sculpture to explore cognitive bias and logical fallacy. Best known for wall sculptures made of painted thermoplastic adhered perpendicularly onto birch panels, she challenges the viewer to consider her work from multiple perspectives.

Adgnot earned a BFA in graphic design in Texas and studied fashion in Paris. Her experience making garments for haute couture runways led her to focus on sculpture. While living in Tokyo, she began using thermoplastic to work three-dimensionally.

She has been featured in solo and two-person exhibitions at Established Gallery in New York, Myta Sayo Gallery in Toronto and Midori-so in Tokyo. Recent group exhibitions include "Black & White" at BWAC – a show juried by Jenée-Daria Strand of the Brooklyn Museum – where she won an award, and "Sacred Pause, Sacred Fertilizer" at the Nevelson Chapel curated by Marly Hammer and Lisa Wirth of Work in Progress. She lives and works in Brooklyn and New Paltz, New York.

MAISON 10 has chosen to support 10 charities. Please review our list selection and simply tell us which one of the 10 charities you would like to choose at checkout. MAISON 10 will make a 10% donation of the retail cost to your selected charity.