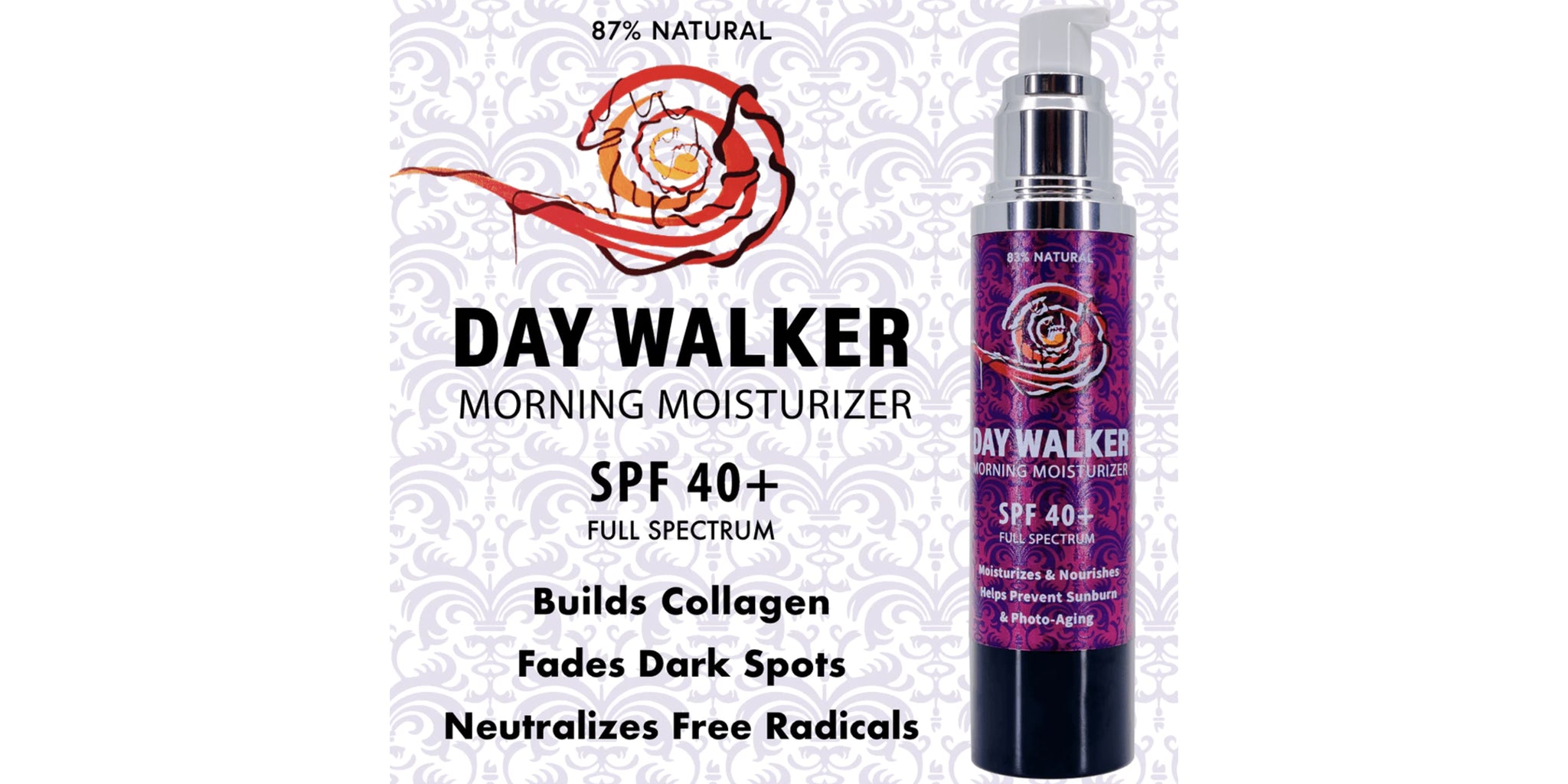 Day Walker MORNING MOISTURIZER WITH SPF 40+
Day Walker Morning Moisturizer with SPF 40+ by Surreal Skincare

Wake up to the sun moisturized and unafraid.

Day Walker replenishes the midnight mug with layer of juicy hydration and a protective coat of high-performance UV absorbers.

Photons travel at the speed of light for 8.3 minutes before they slam into a shield of synthetic and natural UV absorbers designed to dissipate that light into heat and non-harmful wavelengths.  Now you can spend a nice day outside without the fear of spontaneously combusting into flames.

For the photons that do get thru, a diverse army of antioxidants are waiting around with extra electrons to mop up the damage and protect the cellular DNA.  

While the solar chaos reigns across your skin, soothing oils keep the vibes chill, healing and regenerating skin cells, passing out water and giving free hugs.

Although Day Walker was initially created for vampires, dhampirs and ravers....typical citizens of all skin types can employ this moisturizing, SPF 40+ formula for casual, daytime protection from our fiery friend.

Fight the fight to live another night!!

USAGE
Apply liberally to the entire face/neck/décolletage/ears/back of hands.
Apply Day Walker near the end of your morning routine and before makeup.  Unlike natural sunscreens containing UV blockers like zinc oxide, Day Walker does not have to be applied last.  It is meant to absorb into the skin, not sit on top of it; so feel free to use it at any stage in your routine or add a layer over it.  You can apply a layer of Mutherload, Queen Tut or Jaded on top of Day Walker.
Re-apply Day Walker every 2 hours for maximum protection during the hours of 10am to 4pm.

WHY SYNTHETIC INGREDIENTS MORGAN??
Over the years I've created many SPF formulas using natural ingredients (zinc oxide, titanium dioxide, raspberry seed oil....etc) and have not been impressed with the actual, in-vitro, UV blocking/absorption performance.  The reality is that synthetic chemicals are proven to work much better.
The sun rains down a relentless stream of little UV photons that slowly degrade our skin's cellular DNA, depleting collagen, wreaking havoc on our melanocytes and mutating skin cells into cancer.  I want the most effective mechanism to protect my skin as much as possible, no matter if it's a natural or synthetic ingredient.  This is why Day Walker SPF 40+ cream is the only Surreal Skincare product to contain a small percentage of synthetic ingredients.

Warnings
Do not use on damaged or broken skin.
Stop use and ask a doctor if rash occurs when using this product.
Keep out of eyes. Rinse with water to remove.


MAISON 10 has chosen to support 10 charities. Please review our list selection and simply tell us which one of the 10 charities you would like to choose at checkout. MAISON 10 will make a 10% donation of the retail cost to your selected charity.