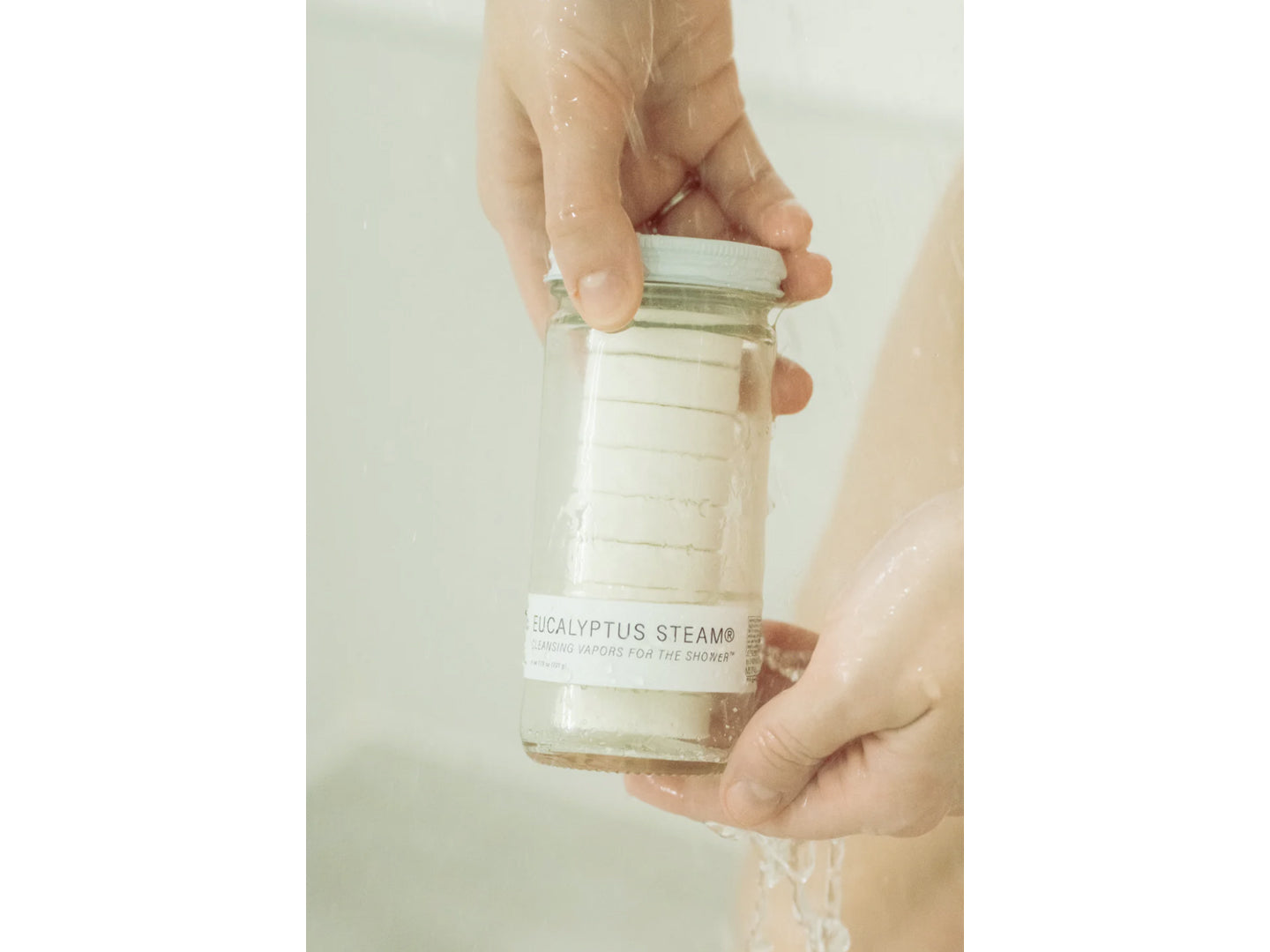 Eucalyptus Steam Vapors
Eucalyptus Steam Vapors by No Tox Life
EUCALYPTUS STEAM® - Cleansing vapors for the shower™
Available in 2 sizes: 4 pieces or 10 pieces
The cleansing vapors of eucalyptus are well known for deep support of respiratory health. We combine it with concentrated cooling peppermint for an awakening and refreshing shower.
How to use in the shower:
Place one or two rounds in the shower in the direct stream of water. As the round(s) get wet, they begin to dissolve and release potent essential oils into the hot shower steam. The patent-pending slow-release technology gives you several minutes of refreshing, EUCALYPTUS STEAM® fills the air.
Ingredients:
Sodium salts (proprietary blend, patent pending), natural clays, stearic acid (plant-based), eucalyptus oil, peppermint oil, menthol, eucalyptol
Warnings: For shower only, do not use in the bath. Do not touch with wet hands or skin. Slippery when wet, do not step where it is placed. Keep out of eyes. If in eyes, flush with clean water for 10 minutes or longer. Do not ingest. Keep out of reach of children. Consult your physician before using if pregnant or breastfeeding.
Storage note: if stored in places with fluctuating humidity and temperature, the rounds can form small feathery crystals, this is simply the mint oils and essential oils coming out of the pucks a bit and re-forming. It is perfectly fine and safe to use.
4 pieces: 78 grams or 2.75 oz net weight of product 
| recyclable glass and metal packaging | pure essential oils
10 pieces: Contains 221 grams or 7.8 oz net weight of product | recyclable glass and metal packaging | pure essential oils
Please note rounds often break in transit. This is normal and will not be replaced or refunded as the product is still completely usable.

MAISON 10 has chosen to support 10 charities. Please review our list selection and simply tell us which one of the 10 charities you would like to choose at checkout. MAISON 10 will make a 10% donation of the retail cost to your selected charity.