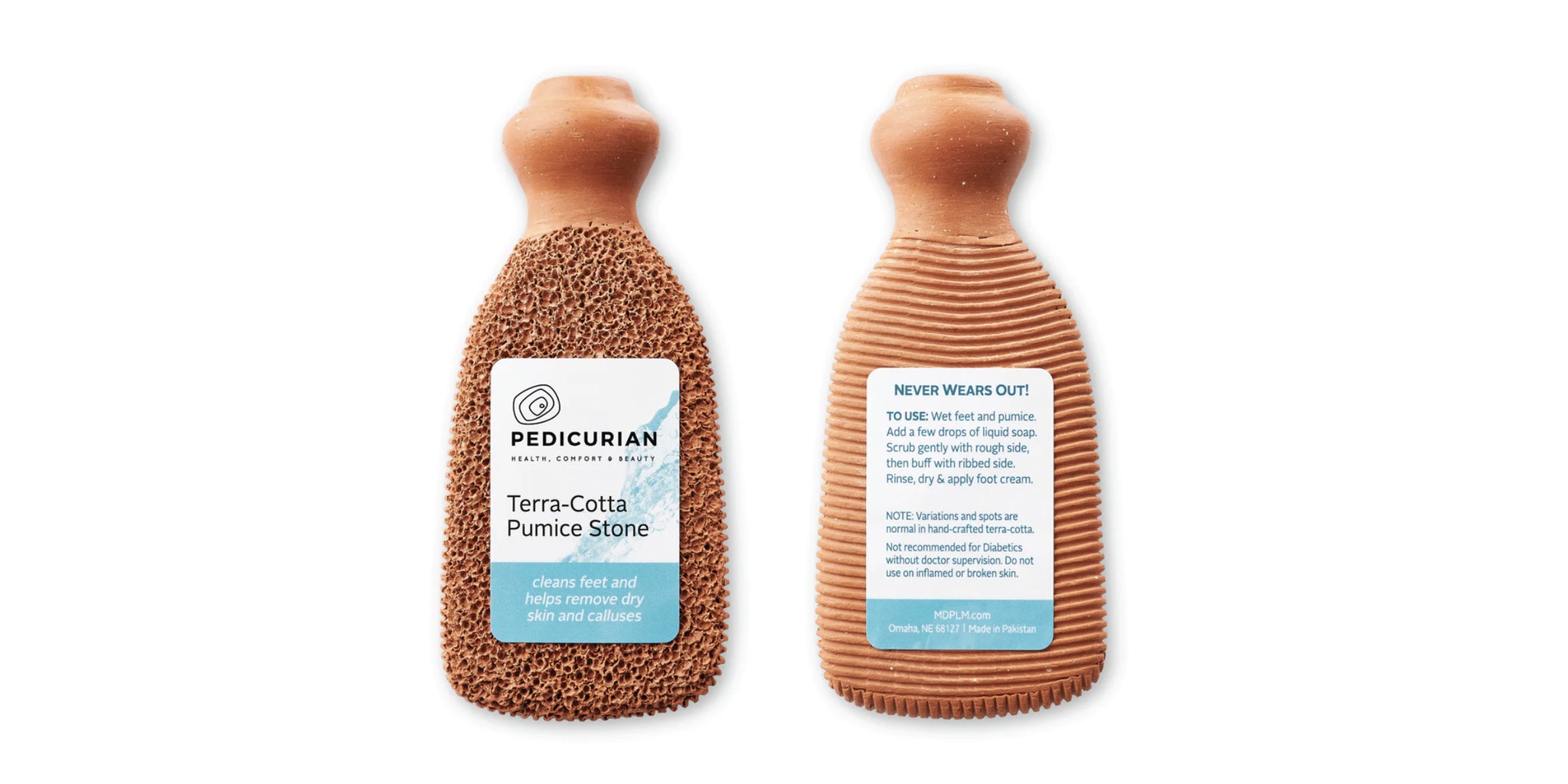 Terra Cotta Foot Scrubber
Terra Cotta Foot Scrubber by Pedicurian
A 
Natural, terra cotta pumice stone cleans feet and helps remove corns and calluses. Perfect for dry, dry cracked heels and calluses and does not wear out.
Your solution for eco-friendly smoothing of the skin on your feet. Soft, smooth and clean feet naturally.
How do you get your feet really clean?
You should clean your feet once per day, and the process should involve warm water, soap and some scrubbing.
Two-sided Foot Scrubber works to cleanse, exfoliate and smooth skin.
Used regularly, it helps remove calluses, and reduces dry, cracked heels.
The "pumice" texture works to gently scrub away dry skin, and the "washboard" side helps polish skin.
Terra-cotta, used widely in the Indian Sub-continent, is fired in a kiln, so it never wears out.
Called "The Best" by "O" the Oprah Magazine
HOW TO USE
Add a few drops of liquid soap to the terra cotta Footscrubber and gently scrub feet. Focus on especially dry or callused areas, such as heels, balls of feet and toes. Polish and smooth skin with the back-side of the scrubber. Best when used at end of shower or bath.
CARE
Our terra-cotta tools last forever, because they're fired in a kiln. Normally, they stay pretty clean between uses, especially if you rinse them well after you use them, because the pumice texture is on the surface, not all the way through like a pumice stone.
We recommend using liquid soap, shower gel or shampoo with your terra-cotta tool, instead of bar soap, which gets lodged in the pumicey and ribbed textures. If you have soap buildup already, simply use a nail brush and plenty of water to remove the soap.
For daily care, simply rinse after use and use a nail brush to remove any excess buildup. Let dry and store in a dry area. If your Foot Scrubber gets really bad, or gets moldy, brush it using a nail brush on any cracks or openings to remove buildup, and then soak it in a cup of water to which you've added a tablespoon of bleach for an hour or two. Add a couple of drops of liquid soap, and then brush again. Rinse well and let dry. If it was moldy, a couple hours in direct sunlight can help, too. Foot Scrubbers, Scrubbies and Body Buffers are also dishwasher safe.
Ingredients: 100% Natural, Hand-Formed Terra Cotta

MAISON 10 has chosen to support 10 charities. Please review our list selection and simply tell us which one of the 10 charities you would like to choose at checkout. MAISON 10 will make a 10% donation of the retail cost to your selected charity.