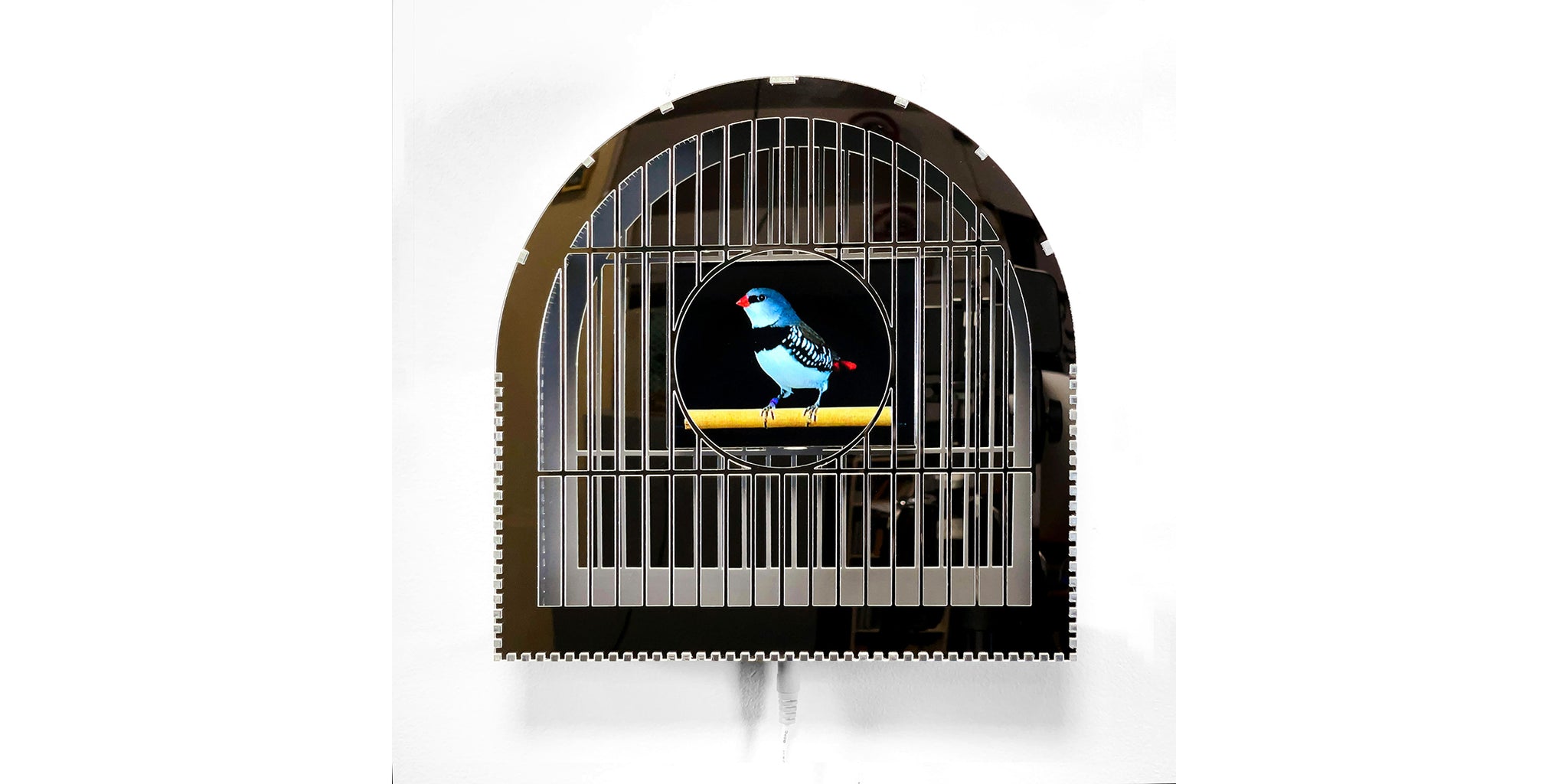 Homie Chrome - Silver
Homie Chrome - Silver

Troy Abbott
Video Installation in a customized acrylic bird cage. Limited edition of 25. Available in gold and silver.

8 x 11 x 2.5 inches

2022
About Troy Abbott: 
Troy Abbott is a multidisciplinary artist currently working in digital media. He graduated from the University of Florida with a degree in Fine Art focusing on drawing, but he gravitated toward the field of digital art. In 2002, Abbott made his first birdcage, inspired by the idea from the classic film Blade Runner in which humans and robots co-exist and are almost interchangeable. His ideas developed and in 2006 he began to make more and more cages. Abbott gave up his job running a nightclub in Fort Lauderdale and dove completely into his exploration of the real and the digital with his cages. He explores the idea of freedom in his pieces, that the birds sit in cage with the doors open, yet they never leave.

Abbott's work is wonderfully subtle yet intriguing. The birds are sometimes color-coordinated to the cages, but they always feel as though they are the natural inhabitants of the cages, perhaps they have been there for years. Abbott films real birds, often reusing his subjects, who sit on their perches with the occasional jerk of movement. This draws the attention of the viewer to the cages, which are art unto themselves. Abbott scours thrift stores and vintage shops to find cages he feels have personality. As his work has progressed Abbott has also taken to showing the exposed circuitry that gives the birds life, bringing the digital element up to the vintage and stylistic element of the cages. The result are beautiful pieces that sit quaint and quiet at first glance, but ring of a subtle commentary on the nature of reality.

MAISON 10 has chosen to support 10 charities. Please review our list selection and simply tell us which one of the 10 charities you would like to choose at checkout. MAISON 10 will make a 10% donation of the retail cost to your selected charity.