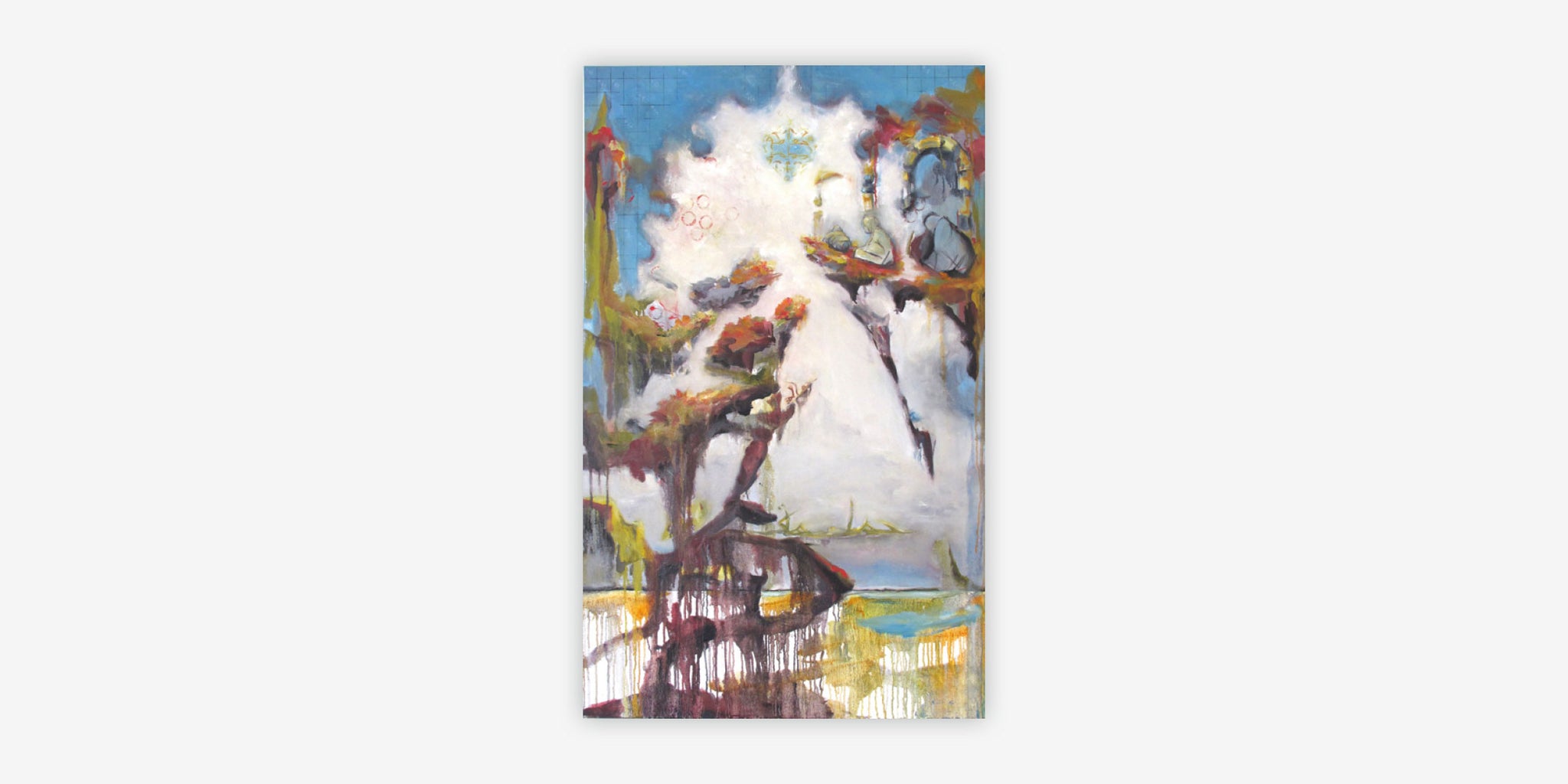 ART – 11 NA: SUSTAINING
11 NA: SUSTAINING
Renée Rey
Oil, charcoal on canvas
48 x 30 inch, edition 1/1
2017
---
Part of the MAISON 10 group exhibition ALL WOMAN
February 17th – April 27th, 2019 
---
ABOUT RENÉE REY
Renée Rey is an award-winning painter living in New York City and southwest Florida.
Her other-worldly spaces flirt with romantic ideals of historical legend and utopian future. Rey draws upon the current social and political climate as fluidly as she borrows imagery from science, culture, and wisdom literature suggesting complex narrative threads. Washes of vivid color create a sense of weightlessness and defiance of gravity.
Rey was born in Japan into a dual diaspora heritage: Jewish/American optometrist father, and French/Armenian/Christian fashion designer mother, and refugee grandparents. Rey came of age in the environmental and civil rights zeitgeist of the 1960's and 70's in upstate New York. An interior architectural design career informs color, material, and spatial choices. Mesmerized by Lucien Freud's tactile juicy oil paintings of larger than life nudes, Rey embraces his uncensored fragility, enigmatic rawness, and freedom to push paint in a new direction.
Art curators and gallery professionals nationally have taken notice.
In March 2017, she was awarded Best in Show in Art Encounters National Competition 2017, a national juried exhibit, Frederick O. Watson Gallery, von Liebig Art Center, Naples, FL, by Jurors Jade Dellinger, Director, Bob Rauschenberg Gallery, Fort Myers, FL, Alejo Benedetti, Curatorial Assistant, Crystal Bridges Museum of American Art, Bentonville, AR, and Mallory O'Connor, Professor of Art History, Emerita, Santa Fe College, Gainesville, FL. Her paintings have been selected for exhibit at the Farmington Museum, New Mexico by Dr. Julie Sasse, Chief Curator, Curator of Modern and Contemporary Art, and Curator of Latin American Art at the Tucson Museum of Art, Tucson, AZ for a national juried exhibit and Florida Contemporary 2015 Exhibition, Baker Museum, Artis-Naples, Naples, FL, and by Gisela Carbonell, Director of Curatorial Affairs and Curator of Special Collections, at the Artis-Naples, Baker Museum, Naples, FL. Rey's paintings have been in exhibitions curated by Erin Wright, Curator at Los Angeles Museum of Contemporary Art, Los Angeles, CA, Zoe Larkins, Associate Curator, Museum of Contemporary Art, Denver, CO, and Susan Welsh, Executive Director, Macon Museum of Arts and Sciences, Macon, GA.  
MAISON 10 has chosen to support 9 charities – the charity chosen for this artwork is Housing Works. If you like, simply tell us which one of these 10 charities you would like to choose at checkout. MAISON 10 will make a 10% donation of the retail cost to your selected charity.