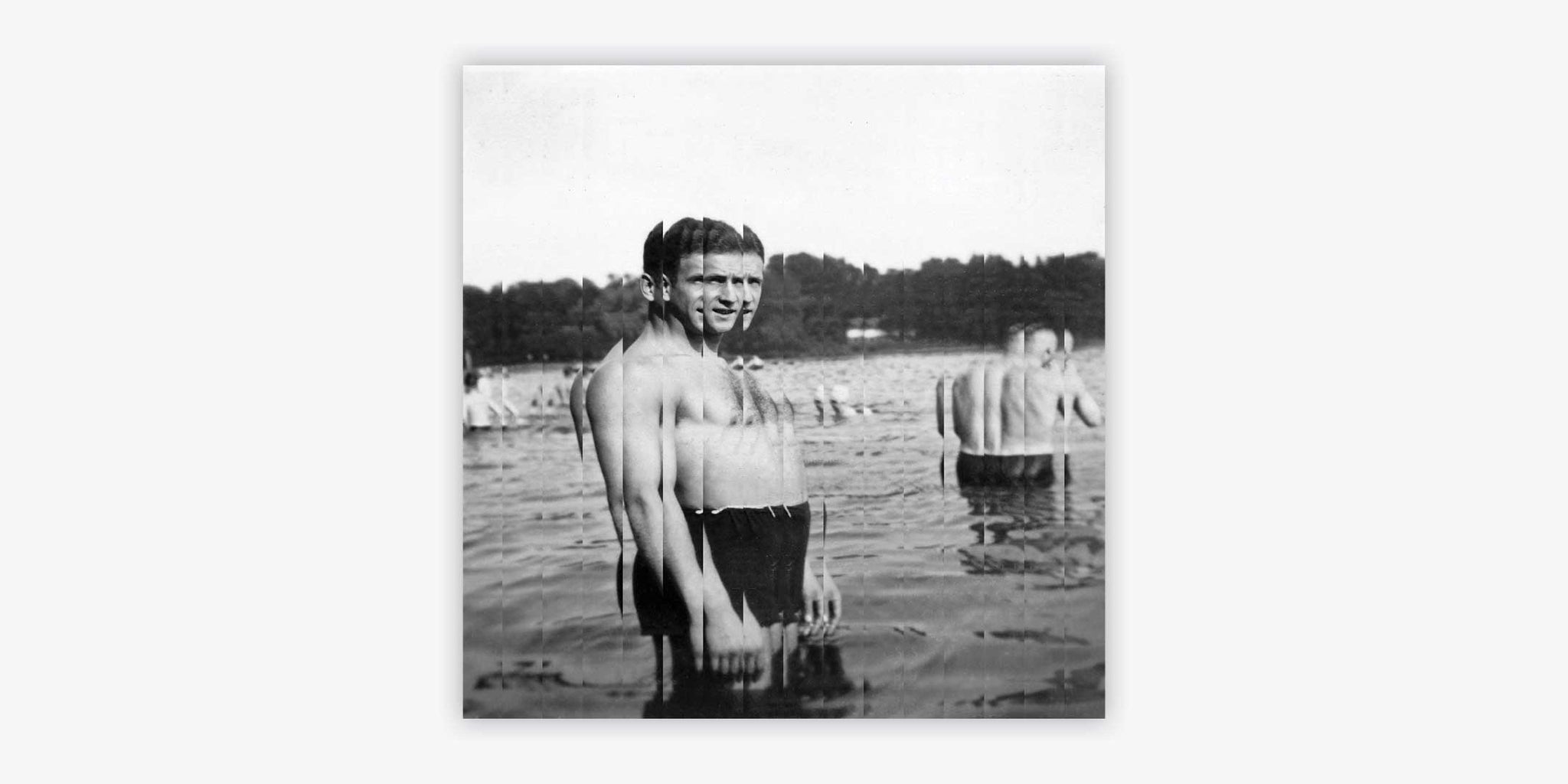 ART – LE LAC
LE LAC
Edouard Taufenbach
Photo collage
Unframed 7.5 x 7.5 inch 
Framed 14 x 14 inch
Edition 1/1
2018
---
Part of the MAISON 10 group exhibition QUEER PRIDE LOVE
June 9th – August 17th, 2019 
---
While studying cinema at the Sorbonne, Edouard Taufenbach became fascinated with editing. He used to edit videos he shot from moving trains, then turned to photography collage, using anonymous family photographs found in flea markets. He looks for intimate moments of daily life.
For this series, Edouard Taufenbach did not, as he usually does, work with photographs that he would have found, but rather from the collection of anonymous images that director Sébastien Lifshitz has been gathering over several decades. Guided by Sébastien Lifshitz, Edouard Taufenbach has, to a greater extent, drawn photographs from it that celebrate the freedom of bodies, a freedom that blossoms in the realm of intimacy but also when in contact with nature, and in particular, water.
These images of leisure, pleasure and desire are multiplied and fragmented by Taufenbach who manually rearranges their parts, sometimes using different scales, in a composition stemming from a rule of mathematical nature. The latter is specific to each one of the original images which, in a way, impose it. It points to, highlights and amplifies a formal or narrative aspect. The curves of a body here, a gesture there. Conversely it also allows the complete reinterpretation of the image, the invention of a new one. Who would suspect that this bouquet of feminine silhouettes, the dynamism of which is reinforced by its vertical format, comes from a horizontal image featuring a rather sensible farandole of bathers? In any case Edouard Taufenbach has worked with an open jubilation that also sets the tone for some titles: Hommage à Pierre M., (Tribute to Pierre M.) for erotomaniac, cross-dressing and fetishist artist Pierre Molinier, or Hippolyte B. Junior, for Hippolyte Bayard, one of the inventors of photography who, for lack of recognition, staged himself as a drowned man.
In Spéculaire, the action frozen by the snapshot is a consequence of fragmentation and repetition and seems to be taking place over time, well beyond the photograph, and thanks to the changes of scale, the gaze seems to be able to penetrate the depth of the image. These effects are reinforced by the paper cuts – almost facets – whose shimmer evokes glass and its reflections, when the artist does not produce real volumes, by folding the image or placing it under prisms, forcing the gaze to move. However, Edouard Taufenbach does not just animate flat and fixed images. He manages to inject life into these anonymous photographs of the past in which we usually cannot help but watch out for death at work.
MAISON 10 has chosen to support 9 charities – the charity chosen for this artwork is Housing Works. If you like, simply tell us which one of these 10 charities you would like to choose at checkout. MAISON 10 will make a 10% donation of the retail cost to your selected charity.