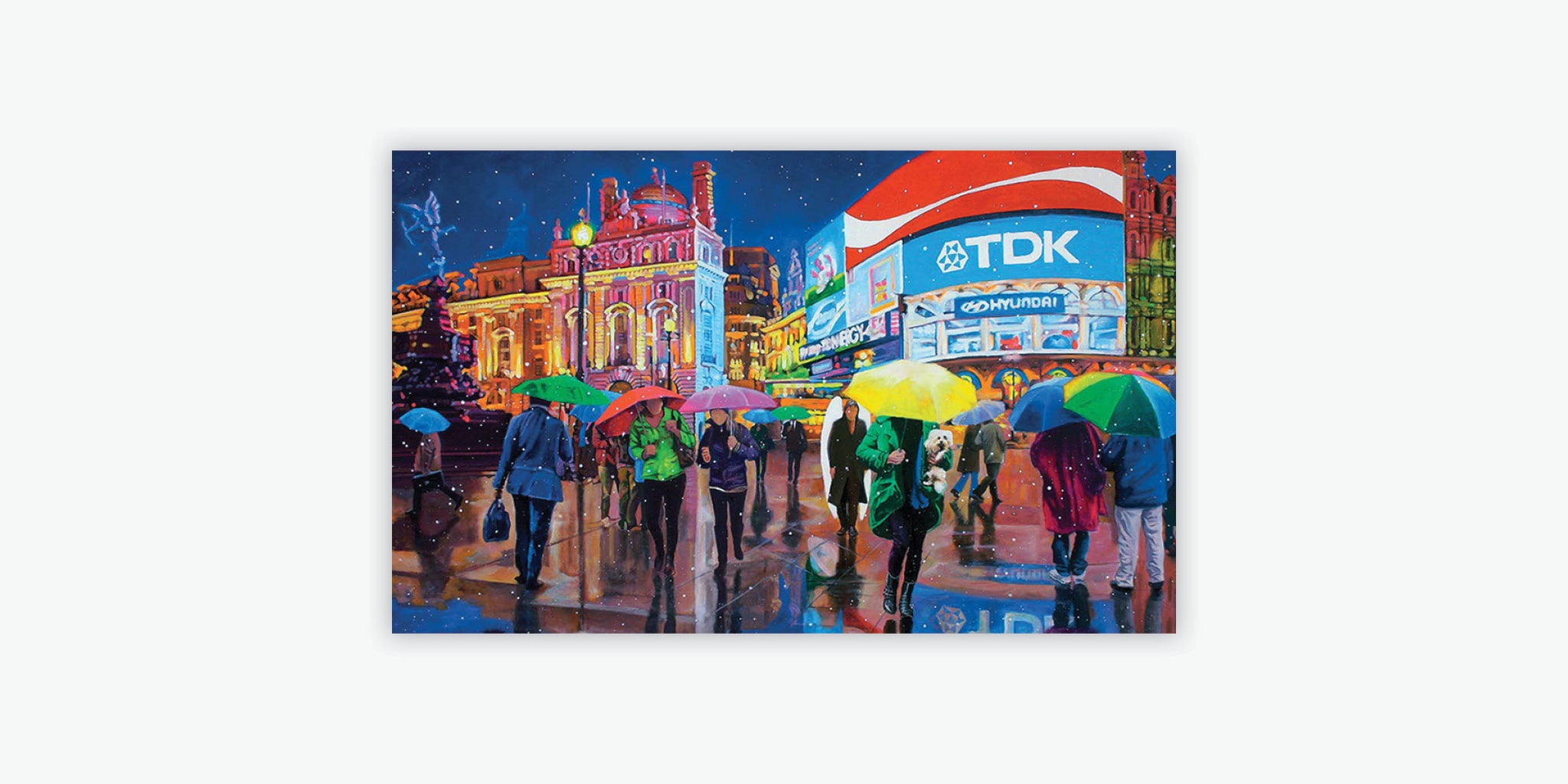 ART – London Angel
LONDON ANGEL
GIOVANNI PULZE
Acrylic on canvas
40 x 60 inch, edition 1/1
2015 
Is it the case that when we least expect it, when we are overwhelmed by our circumstances and when despair begins to take us over, something or someone ends up helping us? If the answer is yes, then we can call that help Providence, Luck or Destiny.
Giovanni Pulze's positive response to this is simply the representation of an 'Angel'. Not an angel in the traditional religious sense of the term, and not a pictorial transposition for the modern cinematic kind of angels depicted by Wim Wenders. This 'Angel' can be any person, someone met in the street, someone met by chance or by mistake, someone who could perhaps change your day with their smile, or change your life with a gesture. The white wings therefore become a metaphor, a symbol for potential, this 'something' that we all have and that can be harnessed, right here right now, to offer help within this Daily Paradise we exist in. 
ABOUT THE ARTIST
Giovanni Pulze, was born in Italy at Piove di Sacco in the province of Padua on 1960, now resident in Badoere in the province of Treviso. First solo exhibitions in 1981. From a casual encounter with the "Maestro" Orlando Fasano at the time retired in the country side of Venice in Mogliano Veneto after having spent many years in Paris and meeting and working with many famous painters like of Picasso, Mirò, Cocteau and Prevert, a great friendship develops and G.P. discovers more of the modern art. From 1991 he started to develop works of modern art, with a side line of designing a line of sport wear labeled 'Jeans Latino' additionally a very well received line of fashion eyewear, designing for Safilo, Marcolin, Celes, Filos Piave, Valberra. Pulze's creations were part of collection for Versace, Valentino, Roccobarocco.
A well-received collection was the one inspired by ten great masters of modern art, from Modigliani to Picasso, Dalì to Fontana and Warhol. Pulze worked with ceramics, creating collections of Totems/Towers and others objects. In the late 1990 his glance to the fantastic takes Giovanni to study the work of the English painter Turner and of the German painter C.D. Friedrich from where he'll learn the sense of 'Emptiness' and the 'Loneliness of the Humanity'. From 1999 the dominate theme of his paintings is the presence of the 'Metropolitan Angel'.
MAISON 10 has chosen to support 9 charities – the charity chosen for this artwork is Housing Works. If you like, simply tell us which one of these 10 charities you would like to choose at checkout. MAISON 10 will make a 10% donation of the retail cost to your selected charity.