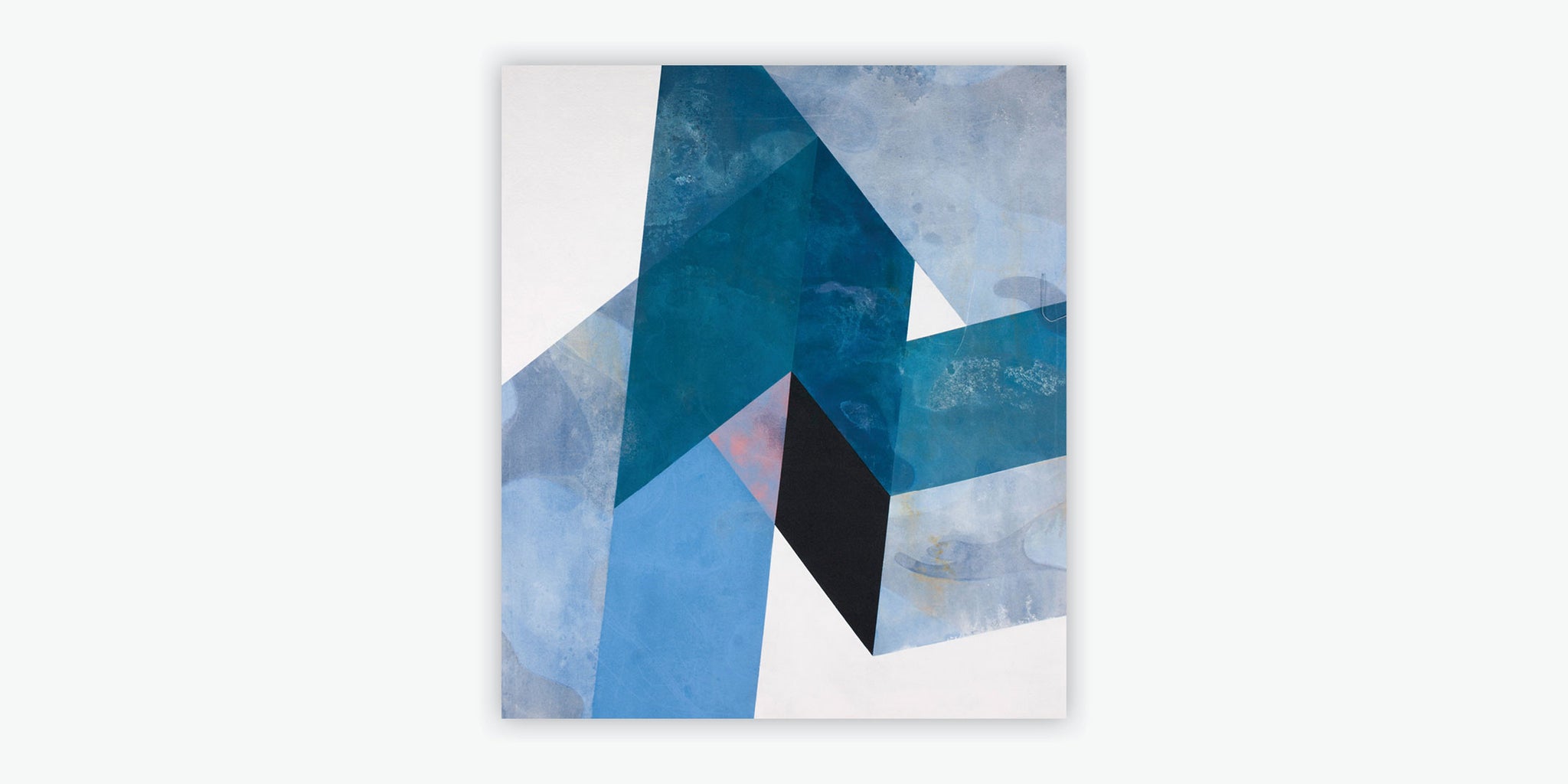 C06: Maskirovka IV
Acrylic on canvas
36 x 30 inch (91 x 76 cm)
2016, edition 1/1
From the series 'Real Fake / Fake Fake', a series of works that was painted between summer 2016 and 2017, a period that has seen remarkable political and social changes. 
A key element of these developments has been the apparent decline of 'truth' and the ascendancy of the label 'fake'. Facts are no longer debated and contested – they are simply rubbished and dismissed by political interests and their supporters. 
In the UK, Brexit promises were unceremoniously ditched the day after the referendum. In Syria, the regime and its allies have consistently denied the use of chemical weapons and other human rights abuses, despite overwhelming evidence to the contrary. And in the US, the political system is all but paralyzed by the rise of 'fake news' and partisan accusations and counter-accusations which frequently have little bearing on anything we might recognize as the truth. 
Meanwhile, Richard Prince's designation of one of his own artworks as 'fake' in early 2017 raises provocative questions about 'real fakes' and 'fake fakes' in the art world.
Miller's series of ten paintings reflects on 'the decline of truth', exploring aspects of deception, fakery and mendacity through the visual vocabulary of dazzle camouflage. Dazzle is a form of geometric, high-contrast patterning developed to protect transatlantic shipping during the First World War. It was intended not to hide a ship, but rather to break up its form and outline and obscure its heading and speed. Like all forms of disruptive camouflage, dazzle is founded on the apparently paradoxical idea that concealment can be achieved through a deceptive form of revelation.
While these works might give the initial impression of legibility and openness, a closer look reveals inconsistencies, revisions and distortions. Forms move and float in ambiguous pictorial space, often obscuring other painting layers in a literal 'cover up'. Each work therefore asks the viewer to consider not only what is revealed, but also what is concealed. 
This relationship between the seen and unseen is underlined by the interplay of transparency and opacity, and by ambiguity in spatial representation and the definition of volumes. The application of paint suggests weathering and corrosion, underlining the maritime origin of disruptive dazzle schemes. 
Lines, marks and other compositional elements are left visible in an apparent gesture of 'truthfulness', but in many cases these elements are spurious additions, introduced to undermine any suggestion of pictorial integrity.
Michael Miller, born in Glasgow, Scotland, trained in painting and drawing in Italy, Switzerland and Mozambique. On moving to the USA in 2010, Miller studied abstract painting, drawing and assemblage at the Art Students League of New York. In May 2012, he was awarded the League's Henri Matisse Estate Merit Scholarship, and in 2014, he was selected as a visiting artist at the Brooklyn Navy Yard. 
In January 2016, Miller moved to Santiago, Chile, where he currently lives and works.
In addition to his regular art practice, Miller has been involved in a range of community-based public art projects in New York, and has supported a number of arts-based not-for-profits as a volunteer artist. From 2012 to 2015 he sat on the board of SONYA (South of the Navy Yards Artists) in Brooklyn. He also sat on the Brooklyn Navy Yard's exhibit advisory committee. 
Michael Miller is trained as a social scientist, and has studied at the Universities of Edinburgh, Leicester and Pennsylvania, as well as the Ecole des Hautes Etudes en Sciences Sociales in Paris. In 2001, he earned a PhD in contemporary history from the European University Institute in Florence, Italy. 
Miller is also a long-standing supporter of human rights, and has published work on a range of issues including violence against children, gender-based violence and the prevention of torture.
MAISON 10 has chosen to support 9 charities. A 10th charity has been selected by Michael Miller and it is the Lulu & Leo Fund. If you like, simply tell us which one of these 10 charities you would like to choose at checkout. MAISON 10 will make a 10% donation of the retail cost to your selected charity.