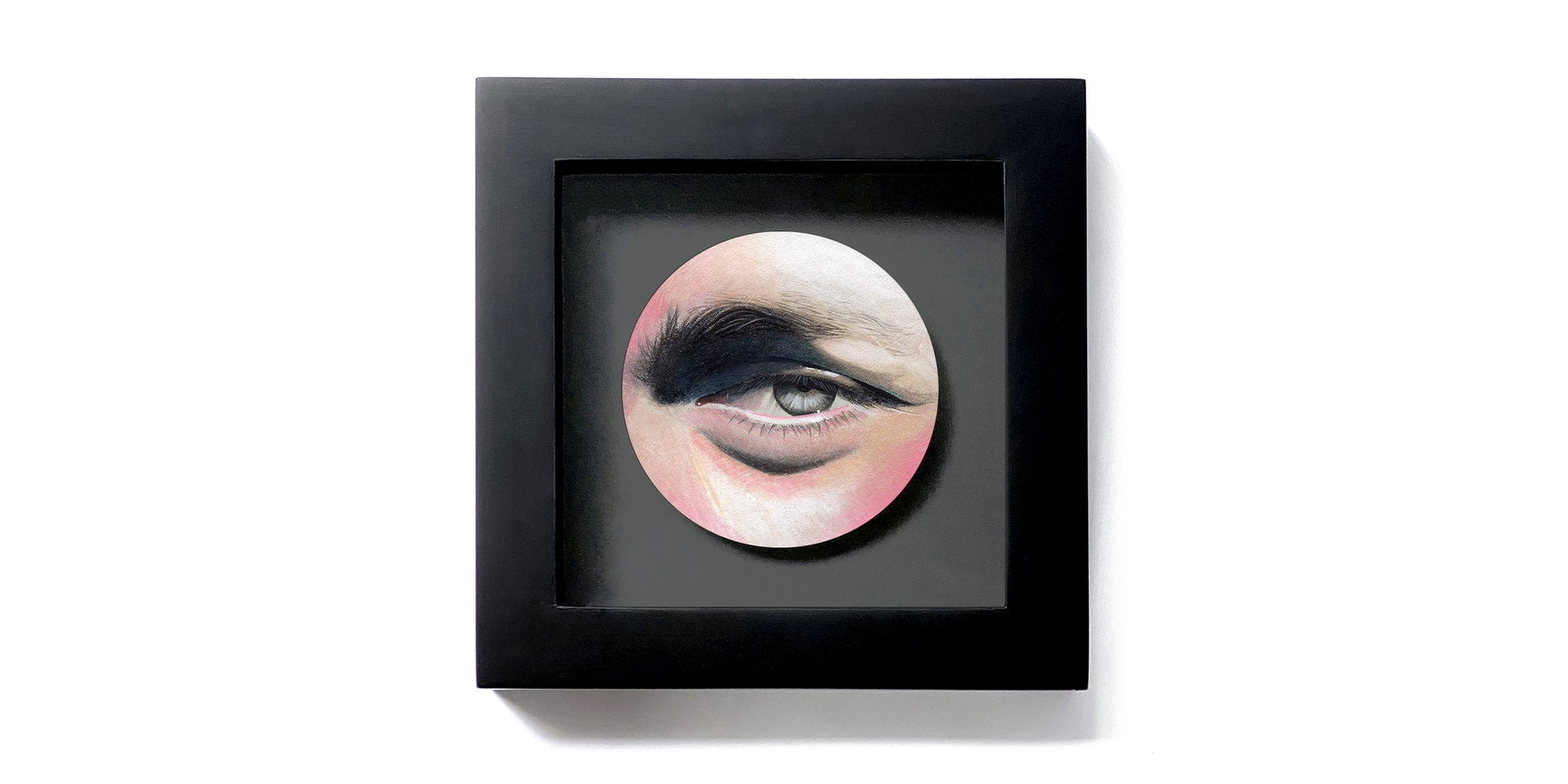 Si
Deluxe, limited edition of 100, giclée fine art prints of original work hand-painted on leather. Each piece is 12cm in diameter, printed on 320 gram 100% cotton paper, hand-cut and float-mounted in a 22cm x 22cm x 4cm wood frame painted black and signed by the artist. Includes certificate of authenticity.
Unframed Editions:
Limited edition of 200, giclée fine art print of original work hand-painted on leather.  Each piece is 12cm in diameter, printed on 22cm x 22cm 320 gram 100% cotton paper and is signed by the artist.  Includes certificate of authentic
In the series "RÊVES; PORTRAITS OF THE SOUL", Gildo Medina captures the dreams that emanate from each look and embodies them on leather canvases, turning the artwork into a spectator, and the spectator into an artwork, almost like a dreamlike game of mirrors.
Throughout history, the eyes have been important motifs in the art and mythology of most cultures. They have been given various symbolic connotations, being considered magical symbols of protection, the "window to the soul," and a reflection of intelligence and spirit. Since the beginning of his artistic career, Gildo Medina has been captivated by eyes and they have always been one of the most characteristic and powerful elements in his work. Medina's passion for painting eyes has always been instinctive; he is captivated by the beauty, magic, and strength they can express. And the mastery with which they are created is evident in the realism of Medina's eyes. 

During the past two years, the global health pandemic affected nearly every facet of our lives. Because we were forced to change the ways we interact with others, many of us shifted our beliefs, priorities and values.

Medina used his time in lockdown to reinvent himself and to completely rethink his life as a human being and as an artist. Within this evolution, he created his most recent project, "REVÊS, PORTRAITS OF THE SOUL", which is interjected with mystical overtones through the hidden messages behind each work.
Medina transmits not only the essence of life, but compels those who observe this work to experience the powerful message that inspired each one. These messages, which are a variety of universal virtues, include LOVE, FORGIVENESS, HOPE, STRENGTH, DESIRE AND FREEDOM, among others. 
About Gildo Medina
Born in Mexico, Gildo Medina is a multidisciplinary artist and designer. In 2020, he was featured in Taschen's 100 best illustrators for the 4th consecutive time, being the only Mexican artist to hold this title.

Gildo works between France, Italy, Spain, and Mexico, and his artwork has been exhibited in major cities across the globe - in prestigious art fairs, museums and galleries, embassies, foundations and other cultural institutions. Since he began his career at the age of 13, he has built up an extensive academic and professional background and has been given more than 30 awards.

Gildo has collaborated with luxury brands, and his work rides a fine line between art and design. Clients include Chanel, Coca Cola France, Elle magazine, Ferragamo, Harper's Bazaar Latin America, L'Oréal Paris, Louis Vuitton, and Sony Music Paris among others.

MAISON 10 has chosen to support 10 charities  If you like, simply tell us which one of these 10 charities you would like to choose at checkout. MAISON 10 will make a 10% donation of the retail cost to your selected charity.