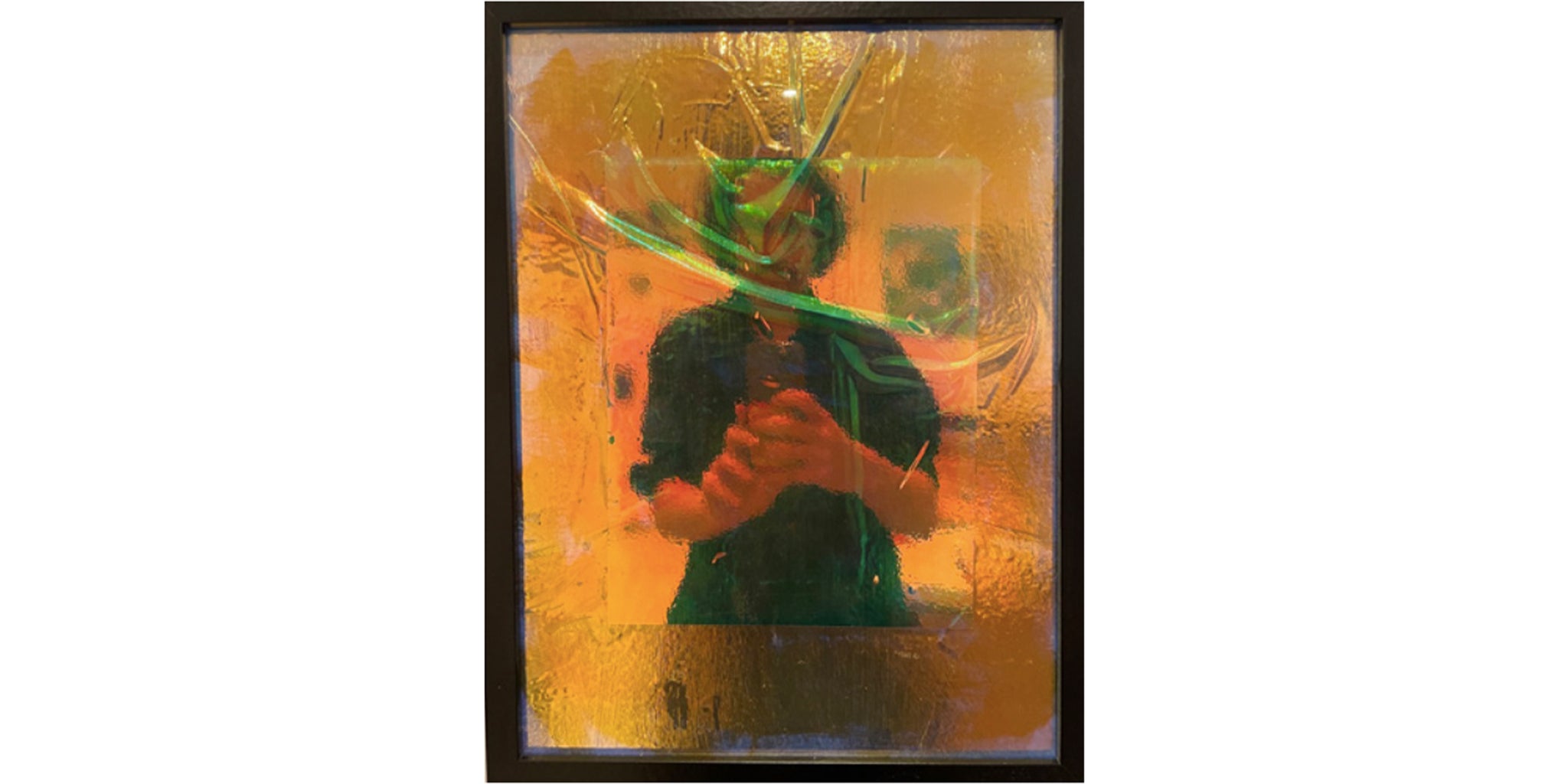 Iridescent Drawing Gold/Blue Series
Iridescent Drawing Gold/Blue Series 

Sei Smith

Iridescent film and paint medium on paper and plexi, black wood frame

17 x 13 inches
2022
About Sei Smith:
Sei Smith (b. 1990, New York City) lives and works in New York City. Smith's work fixates on reflection, light, and interactivity. Through the layering of fluorescent paint, iridescent film, and the incorporation of a variety of found or "farmed" objects, Smith's work is designed to expand the definition of painting. He creates minimal and dynamic compositions that playfully challenge one's perception of the phenomenal world.

After studying painting at the School of the Art Institute of Chicago, Smith had his first solo exhibition in 2011 and has since shown work at galleries, museums, and art fairs in Miami, Chicago and New York. As the co-founder of Apostrophe NYC's Base 12 Project, Smith orchestrated exhibitions at the Whitney Museum of American Art, MoMa PS1, Coney Island's Luna Park, Mana Contemporary, and even the MTA's Kosciuszko Street J train Station. These guerrilla-style pop-up exhibitions were lauded by Antwuan Sargent as "merging the aesthetics of a gallery space with the spontaneous nature of street art... [rethinking] the politics of art accessibility," ( Vice, 2016). He has been featured in numerous publications, including Artnet, Barron's, Dazed, Hypebeast, and Time Out, which listed Smith as one of the top 10 artists in NYC under the age of 35. Smith has works in several prominent private and public collections; notably, Smith's work was chosen as the first acquisition for Artsy's corporate collection. Along with his own art practice, he continues to curate exhibitions and happenings in New York City.
MAISON 10 has chosen to support 9 charities – the charity chosen for this artwork is Housing Works. If you like, simply tell us which one of these 10 charities you would like to choose at checkout. MAISON 10 will make a 10% donation of the retail cost to your selected charity.