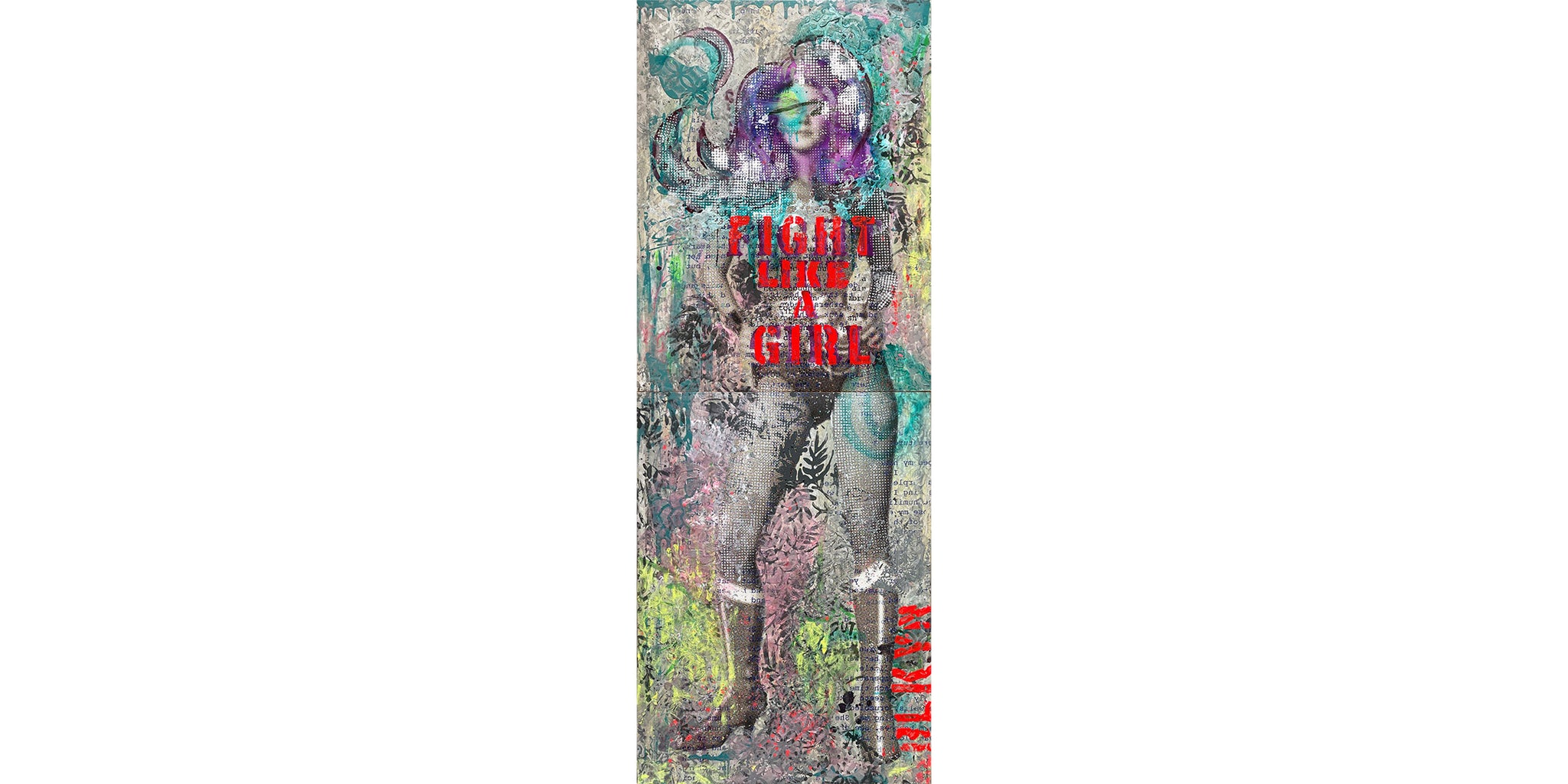 Linda Fight Like A Girl Bklyn
Linda Fight Like A Girl Bklyn

Tina Psoinos
80 x 60 x 1.5 in

2021
Lynda Carter as Wonder Woman from the series"My Life With The Wave"

You've seen them, but have you really looked at them?

Most female celebrities have been viewed and portrayed thru the eyes of male artists and photographers.

This new series tells the story crafted from a woman's point of view, depicting the "Wave" in its different moods through pop culture and inspired by Octavio Paz's intense love story "My Life With The Wave", which was narrated from a male perspective.

These images, of well-known celebrities, taken from album covers and magazine articles, were originally created to idolize women as objects of desire. 

I rebuild them from that "old society standard", layer upon layer, to bring out some of the myriads of elements that were once omitted and forgotten, to showcase each woman's multifaceted psyche as driven, dynamic, beautiful and seductive but above all powerful, as all women are!

About Tina Psoinos:

Now that's what I call art!" — Master Photographer Roy DeCarava, National Medal of Arts 2006, describing Tina Psoinos's work.

Multidisciplinary Artist and Fine Art Photographer Tina Psoinos's extensive body of work showcases an alternative view of the world she sees, one that blurs the borders of reality and imagination. Her portfolio includes a number of ongoing series that range from minimal to very complex imagery. Works explore different subjects including female empowerment through pop culture, love and self image through social media, urban living and global warming.
Drawing on powerful imagery, she uses these concepts to also create and develop inspired site-specific installations. Psoinos has received many awards for her artistry and has exhibited internationally, including the photo Biennale in Berlin and Madrid and many art fairs during Art Basel Miami. Her work is in private and public collections internationally, including The World Bank Headquarters, and Yuko Nii Foundation. She has been featured on NBC and Huffington Post and nominated at EMST The National Museum of Contemporary Art , Athens, Greece. In 2020 her work will be included at CICA Museum, Gimpo, South Korea.

Psoinos received a Bachelor in Fine Arts and continued her studies towards a Masters in Photography at Hunter College, NY, and Interior Design at Fashion Institute of Technology, NY. She lives and works in New York City.
MAISON 10 has chosen to support 10 charities. Please review our list selection and simply tell us which one of the 10 charities you would like to choose at checkout. MAISON 10 will make a 10% donation of the retail cost to your selected charity.