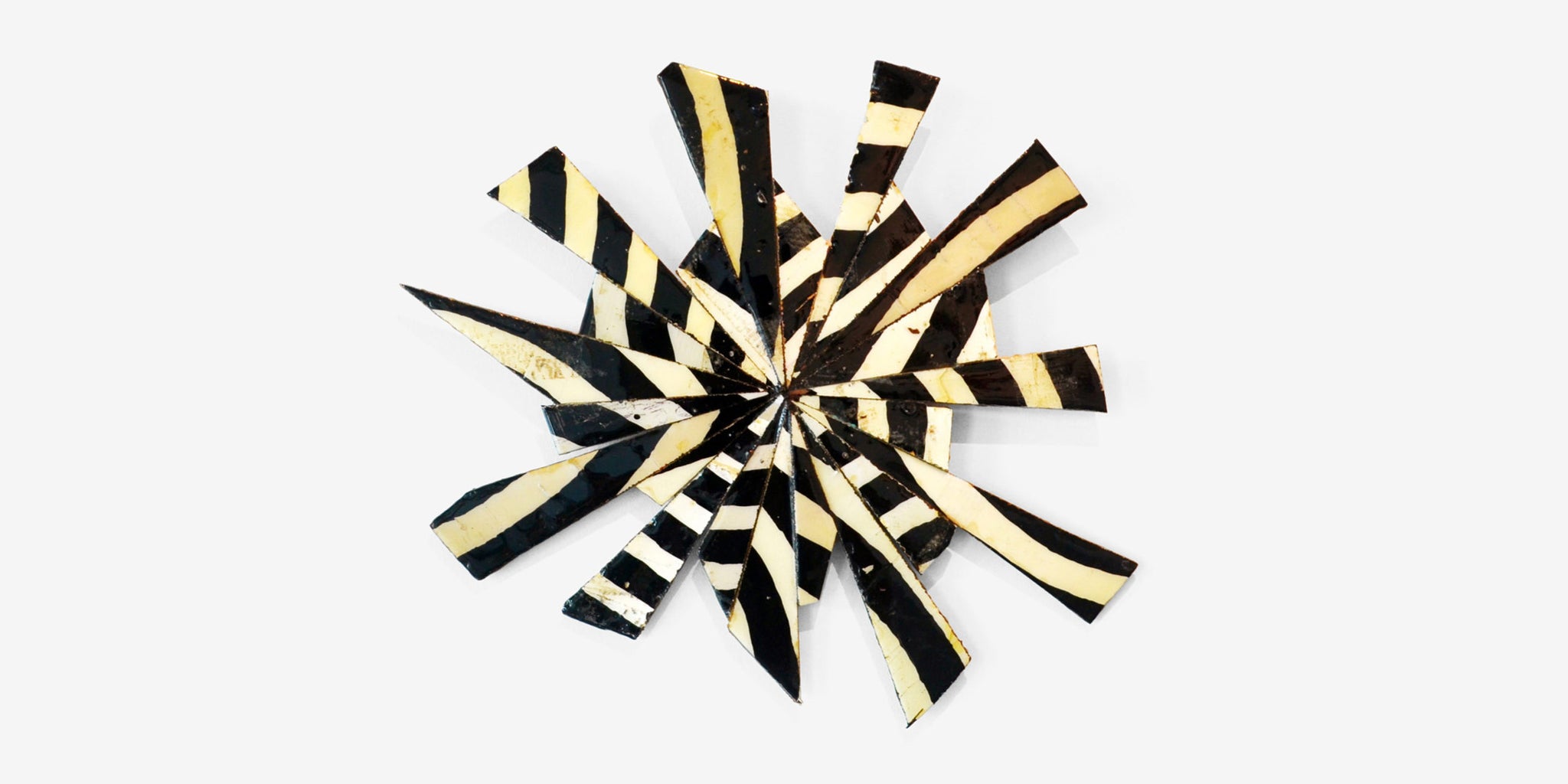 C05: Portal 41
Latex and epoxy resin on panel
24 x 21 inch
2015, edition 1/1
BART VARGAS:
I put a lot of thought into these paintings. Yet ultimately the act of painting is a meditative form of thoughtful play for me, and I strive for these paintings to communicate visual joy to my audience. Through color, pattern, and movement I
want my paintings to celebrate existence.
I paint patterns represented universally throughout human history, including rays, concentric circles, stripes, grids and color fields. I am fascinated with color theory, both the emotion of colors and how they interact with each other. I strive for the image's energy, movement, color and form to leave the surface, enter space, and engage the viewer. 
In essence, each painting is both a celebration of and an exploration into ancient abstract patterns, color theory, identity, and language. With these works, I combine the dualistic aspects of randomness and order to elicit dissonance between ambiguous visual information and intellectual knowledge.
ABOUT BART VARGAS:
Bart Vargas is originally from Bellevue, Nebraska. He received his BFA from the University of Nebraska at Omaha and his MFA at the University of Minnesota Twin Cities. 
He has exhibited throughout the world, most recently in the exhibitions Concept Winter 2016 at the Czong Institute of Contemporary Art (CICA) in Gimpo, South Korea, Maíz at the Museo de Filatelia in Oaxaca, Mexico, and the Kolkata International Art Exhibition at the Rabindranath Tagore Centre' in Kolkata, India. Previous to this, Vargas has exhibited in the Fourth International 'From Waste To Art' Exhibition (2015) in Baku, Azerbaijan, the 2012 Santorini Bienniale for the Arts in Santorini, Greece, and the 2010 Beijing International Art Biennial at the National Art Museum of China. 
His work can be found in many collections throughout the United States, Europe and Asia, and has also been featured in many publications including Sculpture Magazine, New American Paintings, and HGTV Magazine.
Website: bartvargas.com
MAISON 10 has chosen to support 9 charities. A 10th charity has been selected by Bart Vargas and it is International Rescue Committee. If you like, simply tell us which one of these 10 charities you would like to choose at checkout. MAISON 10 will make a 10% donation of the retail cost to your selected charity.