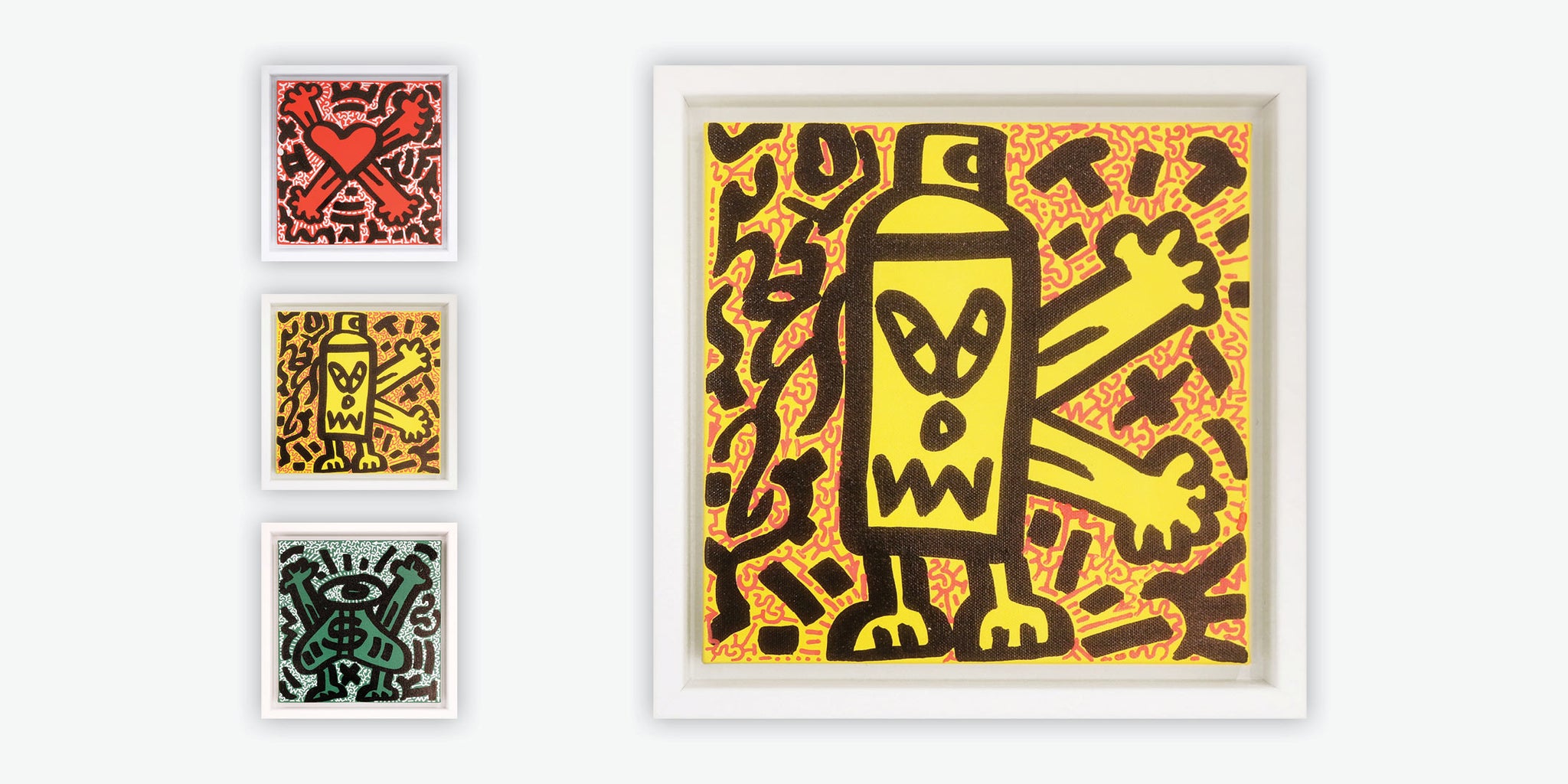 C08: Yellow Can
Also available as a triple-set:
Red Heart
Yellow Can
Green Money Bag
Spray paint and marker on canvas
10 x 10 inch
2016, edition 1/1
Angel Ortiz (LAII, born Manhattan, 1966) grew up on the Lower East Side. As a teenager, he met the artist Keith Haring, who showed interest in his tagging style. The two became fast friends, and sensing an artistic compatibility, they began painting together. LAII's unique intertwining lines intermingled with Haring's markings to create a dynamic sense of kinetic surface.
Early in their collaboration, LAII (short for 'Little Angel') and Haring had joint exhibitions at the Tony Shafrazi Gallery (1982) and Fun Gallery (1983). For almost a decade they worked together on artistic projects, including wall murals, canvases, sculptures and other painted objects. Their collaborations are still shown in museums worldwide. Following Haring's death (1990) LAII continued his own artistic pursuits. To this day he marks work utilizing his distinctive tag and a trademark style of inky curving squiggles.
Haring's untimely death turned LAII's world upside-down. Ortiz was left without his best friend and, without the personal relationships to Haring himself, he became estranged from the Haring estate and was separated from the pieces to which he had contributed. Having only received cash stipends from Haring, there was no structured payment plan for him, so he eventually found himself having to rebuild his career from the ground up. For LAII, painting million-dollar paintings with artist icons and spray-painting on New York City's walls came naturally to him. I don't want to be rich and famous. What keeps me going is my art, Ortiz says.

He continues to live and work in the Lower East Side where he intends to spend the rest of his life. LAII is one of, if not the only, remaining pioneers of the 80s pop-culture boom to still operate from the Lower East Side.
Keith Haring on LAII
Aug 24, 1982
I met LAII last summer while I was doing a mural at J.H.S. 22. I had moved back to the Lower East Side after several months of living near Times Square. I noticed his tags immediately and the more time I spent downtown the more tags I saw. They stood out from the other graffiti. I could tell that this person, whoever it was, knew something about drawing that not everybody knows. I asked other graffiti writers if they knew who LAII was. Finally, 3 months later, I met him. LAII turned out to be Little Angel Two. It seemed as if we had already known each other when we met. We hung out together sometimes, going tagging through the depth of the Lower East Side.
On one of his visits to my studio I invited him to tag on a primed yellow square I prepared. After he covered it with LAII signatures I added a few lines, 'finishing' it. The contrast between our lines was exciting. There is something uniquely satisfying to me in the fusion between our two styles of drawing. It is a delicate balance between the archaic and extremely modern, classical and psychedelic at the same time. We pursued our collaborations on vases, pillars, paintings and found objects. Street tags were finally placed in a context where people where forced to see them as art.
The charity that has been selected by LAII is the COPD Foundation (Chronic Obstructive Pulmonary Disease). MAISON 10 will make a 10% donation of the cost of each artwork sold to this charity.